T-cell death following immune activation is mediated by mitochondria-localized SARM
Author(s)
Panneerselvam, P.
;
Singh, L. P.
;
Selvarajan, V.
;
Chng, W. J.
;
Ng, S. B.
;
Tan, N. S.
;
Ho, B.
;
Ding, Jeak Ling
;
Chen, Jianzhu
; ...
Show more
Show less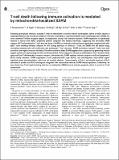 PUBLISHER_CC
Publisher with Creative Commons License
Creative Commons Attribution
Abstract
Following acute-phase infection, activated T cells are terminated to achieve immune homeostasis, failure of which results in lymphoproliferative and autoimmune diseases. We report that sterile α- and heat armadillo-motif-containing protein (SARM), the most conserved Toll-like receptors adaptor, is proapoptotic during T-cell immune response. SARM expression is significantly reduced in natural killer (NK)/T lymphoma patients compared with healthy individuals, suggesting that decreased SARM supports NK/T-cell proliferation. T cells knocked down of SARM survived and proliferated more significantly compared with wild-type T cells following influenza infection in vivo. During activation of cytotoxic T cells, the SARM level fell before rising, correlating inversely with cell proliferation and subsequent T-cell clearance. SARM knockdown rescued T cells from both activation- and neglect-induced cell deaths. The mitochondria-localized SARM triggers intrinsic apoptosis by generating reactive oxygen species and depolarizing the mitochondrial potential. The proapoptotic function is attributable to the C-terminal sterile alpha motif and Toll/interleukin-1 receptor domains. Mechanistically, SARM mediates intrinsic apoptosis via B cell lymphoma-2 (Bcl-2) family members. SARM suppresses B cell lymphoma-extra large (Bcl-xL) and downregulates extracellular signal-regulated kinase phosphorylation, which are cell survival effectors. Overexpression of Bcl-xL and double knockout of Bcl-2 associated X protein and Bcl-2 homologous antagonist killer substantially reduced SARM-induced apoptosis. Collectively, we have shown how T-cell death following infection is mediated by SARM-induced intrinsic apoptosis, which is crucial for T-cell homeostasis.
Date issued
2012-11
Department
Massachusetts Institute of Technology. Department of Biology

;

Koch Institute for Integrative Cancer Research at MIT
Journal
Cell Death and Differentiation
Publisher
Nature Publishing Group
Citation
Panneerselvam, P, L P Singh, V Selvarajan, W J Chng, S B Ng, N S Tan, B Ho, J Chen, and J L Ding. "T-cell death following immune activation is mediated by mitochondria-localized SARM." Cell Death and Differentiation 20, no. 3 (November 23, 2012): 478-489. © 2014 ADMC Associazione Differenziamento e Morte Cellulare
Version: Final published version
---
Collections