Dysregulated RasGRP1 Responds to Cytokine Receptor Input in T Cell Leukemogenesis
Author(s)
Yang, Ming
;
Govern, Christopher C.
;
Chakraborty, Arup K.
;
Hartzell, Catherine
;
Ksionda, Olga
;
Lemmens, Ed
;
Coakley, Kristen
;
Dail, Monique
;
Harvey, Richard C.
;
Bakker, Jeroen
;
Lenstra, Tineke L.
;
Ammon, Kristin
;
Boeter, Anne
;
Winter, Stuart S.
;
Loh, Mignon
;
Shannon, Kevin
;
Wabl, Matthias
;
Roose, Jeroen P.
; ...
Show more
Show less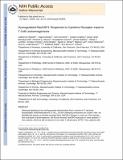 Download
Chakraborty_Dysregulated.pdf (1.277Mb)
OPEN_ACCESS_POLICY
Open Access Policy
Creative Commons Attribution-Noncommercial-Share Alike
Abstract
Enhanced signaling by the small guanosine triphosphatase Ras is common in T cell acute lymphoblastic leukemia/lymphoma (T-ALL), but the underlying mechanisms are unclear. We identified the guanine nucleotide exchange factor RasGRP1 (Rasgrp1 in mice) as a Ras activator that contributes to leukemogenesis. We found increased RasGRP1 expression in many pediatric T-ALL patients, which is not observed in rare early T cell precursor T-ALL patients with KRAS and NRAS mutations, such as K-Ras[superscript G12D]. Leukemia screens in wild-type mice, but not in mice expressing the mutant K-Ras[superscript G12D] that encodes a constitutively active Ras, yielded frequent retroviral insertions that led to increased Rasgrp1 expression. Rasgrp1 and oncogenic K-Ras[superscript G12D] promoted T-ALL through distinct mechanisms. In K-Ras[superscript G12D] T-ALLs, enhanced Ras activation had to be uncoupled from cell cycle arrest to promote cell proliferation. In mouse T-ALL cells with increased Rasgrp1 expression, we found that Rasgrp1 contributed to a previously uncharacterized cytokine receptor–activated Ras pathway that stimulated the proliferation of T-ALL cells in vivo, which was accompanied by dynamic patterns of activation of effector kinases downstream of Ras in individual T-ALLs. Reduction of Rasgrp1 abundance reduced cytokine-stimulated Ras signaling and decreased the proliferation of T-ALL in vivo. The position of RasGRP1 downstream of cytokine receptors as well as the different clinical outcomes that we observed as a function of RasGRP1 abundance make RasGRP1 an attractive future stratification marker for T-ALL.
Date issued
2013-03
Department
Institute for Medical Engineering and Science

;

Massachusetts Institute of Technology. Department of Biological Engineering

;

Massachusetts Institute of Technology. Department of Chemical Engineering

;

Massachusetts Institute of Technology. Department of Chemistry

;

Massachusetts Institute of Technology. Department of Physics
Journal
Science Signaling
Publisher
American Association for the Advancement of Science (AAAS)
Citation
Hartzell, C., O. Ksionda, E. Lemmens, K. Coakley, M. Yang, M. Dail, R. C. Harvey, et al. "Dysregulated RasGRP1 Responds to Cytokine Receptor Input in T Cell Leukemogenesis." Science Signaling 6, no. 268 (March 26, 2013): ra21–ra21.
Version: Author's final manuscript
---
Collections