Lipids promote survival, proliferation, and maintenance of differentiation of rat liver sinusoidal endothelial cells in vitro
Author(s)
Hang, Ta-Chun
;
Lauffenburger, Douglas A.
;
Griffith, Linda G.
;
Stolz, Donna B.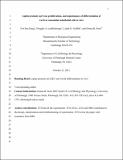 OPEN_ACCESS_POLICY
Open Access Policy
Creative Commons Attribution-Noncommercial-Share Alike
Abstract
Primary rat liver sinusoidal endothelial cells (LSEC) are difficult to maintain in a differentiated state in culture for scientific studies or technological applications. Relatively little is known about molecular regulatory processes that affect LSEC differentiation because of this inability to maintain cellular viability and proper phenotypic characteristics for extended times in vitro, given that LSEC typically undergo death and detachment around 48–72 h even when treated with VEGF. We demonstrate that particular lipid supplements added to serum-free, VEGF-containing medium increase primary rat liver LSEC viability and maintain differentiation. Addition of a defined lipid combination, or even oleic acid (OA) alone, promotes LSEC survival beyond 72 h and proliferation to confluency. Moreover, assessment of LSEC cultures for endocytic function, CD32b surface expression, and exhibition of fenestrae showed that these differentiation characteristics were maintained when lipids were included in the medium. With respect to the underlying regulatory pathways, we found lipid supplement-enhanced phosphatidylinositol 3-kinase and MAPK signaling to be critical for ensuring LSEC function in a temporally dependent manner. Inhibition of Akt activity before 72 h prevents growth of SEC, whereas MEK inhibition past 72 h prevents survival and proliferation. Our findings indicate that OA and lipids modulate Akt/PKB signaling early in culture to mediate survival, followed by a switch to a dependence on ERK signaling pathways to maintain viability and induce proliferation after 72 h. We conclude that free fatty acids can support maintenance of liver LSEC cultures in vitro; key regulatory pathways involved include early Akt signaling followed by ERK signaling.
Date issued
2011-11
Department
Massachusetts Institute of Technology. Department of Biological Engineering
Journal
AJP: Gastrointestinal and Liver Physiology
Publisher
American Physiological Society
Citation
Hang, T.-C., D. A. Lauffenburger, L. G. Griffith, and D. B. Stolz. "Lipids Promote Survival, Proliferation, and Maintenance of Differentiation of Rat Liver Sinusoidal Endothelial Cells in Vitro." AJP: Gastrointestinal and Liver Physiology 302, no. 3 (November 10, 2011): G375–G388.
Version: Author's final manuscript
---
Collections