Measurement of the pp → ZZ production cross section and constraints on anomalous triple gauge couplings in four-lepton final states at √s = 8 TeV
Author(s)
Apyan, Aram
;
Barbieri, R.
;
Bauer, Gerry P.
;
Busza, Wit
;
Cali, Ivan Amos
;
Chan, M.
;
Di Matteo, Leonardo
;
Dutta, V.
;
Gomez-Ceballos, Guillelmo
;
Goncharov, Maxim
;
Gulhan, Doga Can
;
Klute, Markus
;
Lai, Yue Shi
;
Lee, Y.-J.
;
Levin, A.
;
Luckey, P. David, Jr.
;
Ma, Teng
;
Paus, Christoph M. E.
;
Ralph, Duncan Kelley
;
Roland, Christof E.
;
Roland, Gunther M.
;
Stephans, George S. F.
;
Stockli, Fabian
;
Sumorok, Konstanty C.
;
Velicanu, Dragos Alexandru
;
Veverka, Jan
;
Wyslouch, Boleslaw
;
Yang, M.
;
Zanetti, Marco
;
Zhukova, Victoria
; ...
Show more
Show less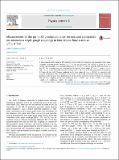 Download
Khachatryan-2015-Measurement of the p.pdf (1005.Kb)
PUBLISHER_CC
Publisher with Creative Commons License
Creative Commons Attribution
Abstract
A measurement of the inclusive ZZ production cross section and constraints on anomalous triple gauge couplings in proton–proton collisions at √s = 8 TeV are presented. The analysis is based on a data sample, corresponding to an integrated luminosity of 19.6 fb[superscript −1], collected with the CMS experiment at the LHC. The measurements are performed in the leptonic decay modes ZZ→ℓℓℓ′ℓ′, where ℓ=e,μ and ℓ′=e,μ,τ. The measured total cross section σ(pp→ZZ)=7.7±0.5 (stat)[+0.5 over −0.4](syst)±0.4(theo)±0.2 (lumi) pb, for both Z bosons produced in the mass range 60<[subscript mZ] <120 GeV60<mZ<120 GeV, is consistent with standard model predictions. Differential cross sections are measured and well described by the theoretical predictions. The invariant mass distribution of the four-lepton system is used to set limits on anomalous ZZZ and ZZγ couplings at the 95% confidence level: −0.004 < f[Z over 4] <0.004, −0.004 < f[Z over 5] < 0.004, −0.005 < f[γ over 4] < 0.005, and −0.005 < f[γ over 5] < 0.005.
Date issued
2014-12
Department
Massachusetts Institute of Technology. Department of Physics

;

Massachusetts Institute of Technology. Laboratory for Nuclear Science

;

Massachusetts Institute of Technology. School of Science
Journal
Physics Letters B
Citation
"Measurement of the Pp → ZZ Production Cross Section and Constraints on Anomalous Triple Gauge Couplings in Four-Lepton Final States at √s = 8 TeV." Physics Letters B 740 (January 2015): 250–272.
Version: Final published version
---
Collections