Search for heavy neutrinos and W bosons with right-handed couplings in proton–proton collisions at √s = 8 TeV
Author(s)
Apyan, Aram
;
Busza, Wit
;
Cali, Ivan Amos
;
Chan, M.
;
Di Matteo, Leonardo
;
Gomez-Ceballos, Guillelmo
;
Goncharov, Maxim
;
Gulhan, Doga Can
;
Klute, Markus
;
Lai, Yue Shi
;
Ma, Teng
;
Paus, Christoph M. E.
;
Ralph, Duncan Kelley
;
Stephans, George S. F.
;
Velicanu, Dragos Alexandru
;
Veverka, Jan
;
Wyslouch, Boleslaw
;
Yoon, A. S.
;
Zanetti, Marco
;
Barbieri, Richard Alexander
;
Bauer, Gerry P
;
Dutta, Valentina
;
Lee, Yen-Jie
;
Levin, Andrew Michael
;
Luckey Jr, P David
;
Roland, Christof E
;
Roland, Gunther M
;
Stoeckli, Fabian
;
Sumorok, Konstanty C
;
Yang, Mingming
;
Wyslouch, Victoria
; ...
Show more
Show less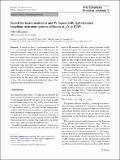 Download
Khachatryan-2014-Search for heavy neu.pdf (755.5Kb)
PUBLISHER_CC
Publisher with Creative Commons License
Creative Commons Attribution
Abstract
A search for heavy, right-handed neutrinos, Nℓ ( ℓ=e,μ ), and right-handed W[subscript R] bosons, which arise in the left-right symmetric extensions of the standard model, has been performed by the CMS experiment. The search was based on a sample of two lepton plus two jet events collected in proton–proton collisions at a center-of-mass energy of 8 TeV corresponding to an integrated luminosity of 19.7 fb[superscript −1]. For models with strict left-right symmetry, and assuming only one N[subscript ℓ] flavor contributes significantly to the W[subscript R] decay width, the region in the two-dimensional (M[subscript WR],M[subscript Nℓ]) mass plane excluded at a 95 % confidence level extends to approximately M[subscript WR]=3.0TeV and covers a large range of neutrino masses below the W[subscript R] boson mass, depending on the value of M[subscript WR]. This search significantly extends the (M[subscript WR],M[subscript Nℓ]) exclusion region beyond previous results.
Date issued
2014-11
Department
Massachusetts Institute of Technology. Department of Physics

;

Massachusetts Institute of Technology. Laboratory for Nuclear Science

;

Massachusetts Institute of Technology. School of Science
Journal
European Physical Journal C: Particles and Fields
Publisher
Springer-Verlag
Citation
Khachatryan, V., A. M. Sirunyan, A. Tumasyan, W. Adam, T. Bergauer, M. Dragicevic, J. Erö, et al. "Search for Heavy Neutrinos and W Bosons with Right-Handed Couplings in Proton–proton Collisions at √s = 8 TeV." Eur. Phys. J. C 74, no. 11 (November 2014).
Version: Final published version
---
Collections