TWO NEW BURSTING NEUTRON STAR LOW-MASS X-RAY BINARIES: SWIFT J185003.2-005627 AND SWIFT J1922.7-1716
Author(s)
Degenaar, N.
;
Altamirano, D.
;
Wijnands, R.
;
Linares Alegret, Manuel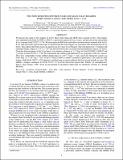 Download
Degenaar-2012-Two new Bursting Neu.pdf (1.715Mb)
PUBLISHER_POLICY
Publisher Policy
Article is made available in accordance with the publisher's policy and may be subject to US copyright law. Please refer to the publisher's site for terms of use.
Terms of use
Article is made available in accordance with the publisher's policy and may be subject to US copyright law. Please refer to the publisher's site for terms of use.
Abstract
We discuss the origin of two triggers of Swift's Burst Alert Telescope (BAT) that occurred in 2011. The triggers were identified with Swift J185003.2-005627, a previously unknown X-ray source, and the known but unclassified X-ray transient Swift J1922.7-1716. We investigate the BAT data and follow-up observations obtained with Swift's X-ray and ultraviolet/optical telescopes to demonstrate that both triggers are consistent with thermonuclear X-ray bursts. This implies that both sources are neutron star low-mass X-ray binaries. The total duration of ≃ 7 minutes and estimated energy output of ≃ (3-7) × 10[superscript 39] erg fall in between that of normal and intermediately long X-ray bursts. From the observed peaks of the X-ray bursts, we estimate a distance of ≲ 3.7 kpc for Swift J185003.2-005627 and ≲ 4.8 kpc for Swift J1922.7-1716. We characterize the outburst and quiescent X-ray properties of the two sources. They have comparable average outburst luminosities of ≃ 10[superscript 35-36] erg s[superscript –1], and a quiescent luminosity equal to or lower than ≃ 2 × 10[superscript 32] erg s[superscript –1] (0.5-10 keV). Swift J185003.2-005627 returned to quiescence ≃ 20 d after its BAT trigger, while Swift J1922.7-1716 appears to exhibit long accretion outbursts that last several months to years. We identify a unique counterpart for Swift J1922.7-1716 in the ultraviolet/optical data. Finally, we serendipitously detect a flare lasting ≃ 500 s from an uncataloged X-ray/optical object that we tentatively classify as a flaring M-dwarf.
Date issued
2012-10
Department
MIT Kavli Institute for Astrophysics and Space Research
Journal
Astrophysical Journal
Citation
Degenaar, N., M. Linares, D. Altamirano, and R. Wijnands. "TWO NEW BURSTING NEUTRON STAR LOW-MASS X-RAY BINARIES: SWIFT J185003.2-005627 AND SWIFT J1922.7-1716." The Astrophysical Journal 759, no. 1 (October 11, 2012): 8. © 2012 The American Astronomical Society
Version: Final published version
---
Collections