AMUSE-VIRGO. II. DOWN-SIZING IN BLACK HOLE ACCRETION
Author(s)
Gallo, Elena
;
Treu, Tommaso
;
Marshall, Philip J.
;
Woo, Jong-Hak
;
Leipski, Christian
;
Antonucci, Robert
; ...
Show more
Show less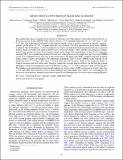 Download
Gallo-2010-AMUSE-VIRGO. II. DOW.pdf (1.156Mb)
PUBLISHER_POLICY
Publisher Policy
Article is made available in accordance with the publisher's policy and may be subject to US copyright law. Please refer to the publisher's site for terms of use.
Terms of use
Article is made available in accordance with the publisher's policy and may be subject to US copyright law. Please refer to the publisher's site for terms of use.
Abstract
We complete the census of nuclear X-ray activity in 100 early-type Virgo galaxies observed by the Chandra X-ray Telescope as part of the AMUSE-Virgo survey, down to a (3σ) limiting luminosity of 3.7 × 10[superscript 38] erg s[superscript –1] over 0.5-7 keV. The stellar mass distribution of the targeted sample, which is mostly composed of formally "inactive" galaxies, peaks below 10[superscript 10] M ☉, a regime where the very existence of nuclear supermassive black holes (SMBHs) is debated. Out of 100 objects, 32 show a nuclear X-ray source, including 6 hybrid nuclei which also host a massive nuclear cluster as visible from archival Hubble Space Telescope images. After carefully accounting for contamination from nuclear low-mass X-ray binaries based on the shape and normalization of their X-ray luminosity function (XLF), we conclude that between 24% and 34% of the galaxies in our sample host an X-ray active SMBH (at the 95% confidence level). This sets a firm lower limit to the black hole (BH) occupation fraction in nearby bulges within a cluster environment. The differential logarithmic XLF of active SMBHs scales with the X-ray luminosity as L X [superscript –0.4±0.1] up to 10[superscript 42] erg s[superscript –1]. At face value, the active fraction—down to our luminosity limit—is found to increase with host stellar mass. However, taking into account selection effects, we find that the average Eddington-scaled X-ray luminosity scales with BH mass as M BH -0.62 +0.13[over]-0.12, with an intrinsic scatter of 0.46+0.08[subscript –0.06 dex]. This finding can be interpreted as observational evidence for "down-sizing" of BH accretion in local early types, that is, low-mass BHs shine relatively closer to their Eddington limit than higher mass objects. As a consequence, the fraction of active galaxies, defined as those above a fixed X-ray Eddington ratio, decreases with increasing BH mass.
Date issued
2010-05
Department
MIT Kavli Institute for Astrophysics and Space Research
Journal
Astrophysical Journal
Publisher
Institute of Physics/American Astronomical Society
Citation
Gallo, Elena, Tommaso Treu, Philip J. Marshall, Jong-Hak Woo, Christian Leipski, and Robert Antonucci. "AMUSE-VIRGO. II. DOWN-SIZING IN BLACK HOLE ACCRETION." The Astrophysical Journal 714, no. 1 (April 6, 2010): 25–36. © 2009 American Astronomical Society.
Version: Final published version
---
Collections