Regulation of Centromere Localization of the Drosophila Shugoshin MEI-S332 and Sister-Chromatid Cohesion in Meiosis
Author(s)
Nogueira, C.
;
Kashevsky, Helena
;
Clarke, A.
;
Pinto, Belinda Sophia
;
Orr-Weaver, Terry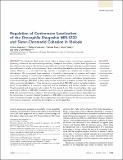 Download
Orr-Weaver_Regulation of.pdf (1.537Mb)
PUBLISHER_CC
Publisher with Creative Commons License
Creative Commons Attribution
Abstract
The Shugoshin (Sgo) protein family helps to ensure proper chromosome segregation by protecting cohesion at the centromere by preventing cleavage of the cohesin complex. Some Sgo proteins also influence other aspects of kinetochore-microtubule attachments. Although many Sgo members require Aurora B kinase to localize to the centromere, factors controlling delocalization are poorly understood and diverse. Moreover, it is not clear how Sgo function is inactivated and whether this is distinct from delocalization. We investigated these questions in Drosophila melanogaster, an organism with superb chromosome cytology to monitor Sgo localization and quantitative assays to test its function in sister-chromatid segregation in meiosis. Previous research showed that in mitosis in cell culture, phosphorylation of the Drosophila Sgo, MEI-S332, by Aurora B promotes centromere localization, whereas Polo phosphorylation promotes delocalization. These studies also suggested that MEI-S332 can be inactivated independently of delocalization, a conclusion supported here by localization and function studies in meiosis. Phosphoresistant and phosphomimetic mutants for the Aurora B and Polo phosphorylation sites were examined for effects on MEI-S332 localization and chromosome segregation in meiosis. Strikingly, MEI-S332 with a phosphomimetic mutation in the Aurora B phosphorylation site prematurely dissociates from the centromeres in meiosis I. Despite the absence of MEI-S332 on meiosis II centromeres in male meiosis, sister chromatids segregate normally, demonstrating that detectable levels of this Sgo are not essential for chromosome congression, kinetochore biorientation, or spindle assembly.
Date issued
2014-07
Department
Massachusetts Institute of Technology. Department of Biology

;

Whitehead Institute for Biomedical Research

;

Koch Institute for Integrative Cancer Research at MIT
Journal
G3: Genes-Genomes-Genetics
Publisher
Genetics Society of America, The
Citation
Nogueira, C., H. Kashevsky, B. Pinto, A. Clarke, and T. L. Orr-Weaver. "Regulation of Centromere Localization of the Drosophila Shugoshin MEI-S332 and Sister-Chromatid Cohesion in Meiosis." G3: Genes-Genomes-Genetics 4, no. 10 (July 31, 2014): 1849–1858.
Version: Final published version
---
Collections