In vitro alteration of physiological parameters do not hamper the growth of human multipotent vascular wall-mesenchymal stem cells
Author(s)
Ciavarella, Carmen
;
Fittipaldi, Silvia
;
Pedrini, Silvia
;
Vasuri, Francesco
;
Gallitto, Enrico
;
Freyrie, Antonio
;
Stella, Andrea
;
Pasquinelli, Gianandrea
;
Gostjeva, Elena V.
; ...
Show more
Show less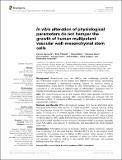 Download
Ciavarella-2015-In vitro alteration.pdf (1.658Mb)
PUBLISHER_CC
Publisher with Creative Commons License
Creative Commons Attribution
Abstract
Background: Mesenchymal stem cells (MSCs) with multilineage potential and anti-inflammatory property can be isolated from different human tissues, representing promising candidates in regenerative medicine. Despite the common criteria of characterization, many factors contribute to MSC heterogeneity (i.e., tissue origin, coexistence of cell subsets at different stage of differentiation, epigenetic) and no standard methods have been approved to characterize MSCs in cell culture. Aim: The present study aimed to test whether MSCs resist adverse chemical and physical culture conditions, surviving MSC subpopulations are endowed with the stemness abilities; to characterize MMP expression in AAA-MSCs under the adverse experimental conditions. Methods and Results: MSCs enzymatically isolated from human abdominal aortic aneurysm (AAA-MSCs) were exposed to media acidification, hypoxia, starving, drying and hypothermia through the following strategies: (1) low-density seeding in closed flasks; (2) exposure to a chemical hypoxia inducer, cobalt chloride; (3) exposure to a dry environment with growing medium deprivation and culture at 4°C. None of these conditions affected MSC viability and stemness profile, as evidenced by NANOG, OCT-4, and SOX-2 mRNA expression in surviving cells. A significant MMP-9 decrease, especially when AAA-MSCs were exposed to hypothermia, was associated with stress resistant stem cells. Conclusions: AAA-MSCs survive to extremely adverse culture conditions, keeping their morphology and stemness features. Besides MMP-9 role in pathological tissue remodeling, this protease may be related to MSC survival. Future studies on MSCs derived from other tissues will be necessary to refine our culture protocol, which can represent an empirical method to demonstrate MSC stemness, with potential implications for their clinical use. Introduction
Date issued
2015-06
Department
Massachusetts Institute of Technology. Department of Biological Engineering
Journal
Frontiers in Cell and Developmental Biology
Publisher
Frontiers Research Foundation
Citation
Ciavarella, Carmen, Silvia Fittipaldi, Silvia Pedrini, Francesco Vasuri, Enrico Gallitto, Antonio Freyrie, Andrea Stella, Elena Gostjeva, and Gianandrea Pasquinelli. "In Vitro Alteration of Physiological Parameters Do Not Hamper the Growth of Human Multipotent Vascular Wall-Mesenchymal Stem Cells." Front. Cell Dev. Biol. 3 (June 4, 2015).
Version: Final published version
---
Collections