Surface Tethered Epidermal Growth Factor Protects Proliferating and Differentiating Multipotential Stromal Cells from FasL-Induced Apoptosis
Author(s)
Rodrigues, Melanie
;
Blair, Harry
;
Stockdale, Linda
;
Wells, Alan
;
Griffith, Linda G.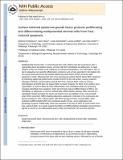 Download
Griffith_Surface tethered.pdf (2.353Mb)
OPEN_ACCESS_POLICY
Open Access Policy
Creative Commons Attribution-Noncommercial-Share Alike
Abstract
Multipotential stromal cells or mesenchymal stem cells (MSCs) have been proposed as aids in regenerating bone and adipose tissues, as these cells form osteoblasts and adipocytes. A major obstacle to this use of MSC is the initial loss of cells postimplantation. This cell death in part is due to ubiquitous nonspecific inflammatory cytokines such as FasL generated in the implant site. Our group previously found that soluble epidermal growth factor (sEGF) promotes MSC expansion. Furthermore, tethering EGF (tEGF) onto a two-dimensional surface altered MSC responses, by restricting epidermal growth factor receptor (EGFR) to the cell surface, causing sustained activation of EGFR, and promoting survival from FasL-induced death. sEGF by causing internalization of EGFR does not support MSC survival. However, for tEGF to be useful in bone regeneration, it needs to allow for MSC differentiation into osteoblasts while also protecting emerging osteoblasts from apoptosis. tEGF did not block induced differentiation of MSCs into osteoblasts, or adipocytes, a common default MSC-differentiation pathway. MSC-derived preosteoblasts showed increased Fas levels and became more susceptible to FasL-induced death, which tEGF prevented. Differentiating adipocytes underwent a reduction in Fas expression and became resistant to FasL-induced death, with tEGF having no further survival effect. tEGF protected undifferentiated MSC from combined insults of FasL, serum deprivation, and physiologic hypoxia. Additionally, tEGF was dominant in the face of sEGF to protect MSC from FasL-induced death. Our results suggest that MSCs and differentiating osteoblasts need protective signals to survive in the inflammatory wound milieu and that tEGF can serve this function.
Date issued
2012-12
Department
Massachusetts Institute of Technology. Department of Biological Engineering
Publisher
Wiley Blackwell
Citation
Rodrigues, Melanie, Harry Blair, Linda Stockdale, Linda Griffith, and Alan Wells. "Surface Tethered Epidermal Growth Factor Protects Proliferating and Differentiating Multipotential Stromal Cells from FasL-Induced Apoptosis." STEM CELLS 31, no. 1 (December 19, 2012): 104–116.
Version: Author's final manuscript
---
Collections