Editorial: Homeostatic and retrograde signaling mechanisms modulating presynaptic function and plasticity
Author(s)
Subramanian, Jaichandar
;
Dickman, Dion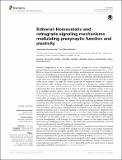 Download
Subramanian-2015-Editorial_ Homeostat.pdf (185.6Kb)
PUBLISHER_CC
Publisher with Creative Commons License
Creative Commons Attribution
Abstract
Dynamic reorganization of neural circuits can occur through the selective strengthening of synapses between neurons that are coactive in response to the encoded information (Shatz, 1990). However, the positive feedback resulting from synaptic strengthening and neuronal coactivity can lead to the destabilization of neuronal networks. Thus, synapses must maintain the capacity for change necessary for learning and memory, yet constrain this inherently destabilizing flexibility to enable stable neural function throughout life. Evidence has emerged in recent years that activity within neural circuits can shape the synaptic properties of component neurons in a manner that maintains stable excitatory drive, a process referred to as homeostatic synaptic plasticity (Turrigiano and Nelson, 2000; Pozo and Goda, 2010; Davis, 2013). Potent and adaptive homeostatic mechanisms have been demonstrated in a variety of systems to modulate activity at the level of an individual neuron, synapse, circuit, or entire network, and dysregulation at some or all of these levels may contribute to neuropsychiatric disorders, intellectual disability, and epilepsy (Wondolowski and Dickman, 2013). Greater mechanistic understanding of homeostatic plasticity will provide key insights into the etiology of these disorders, which may result from network instability and synaptic dysfunction. Over the past 15 years, the molecular mechanisms of this form of plasticity have been intensely studied in various model organisms, including invertebrates and vertebrates (Davis and Müller, 2015). Though, once thought to have a predominantly postsynaptic basis, emerging evidence suggests that homeostatic mechanisms act on both sides of the synapse, through mechanisms such as retrograde signaling, to orchestrate compensatory adaptations that maintain stable network function (Vitureira et al., 2012). These trans-synaptic signaling systems ultimately alter neurotransmitter release probability by a variety of mechanisms including changes in vesicle pool size and calcium influx (Davis and Müller, 2015). These adaptations are not expected to occur homogenously at all terminals of a pre-synaptic neuron, as they might synapse with neurons in non-overlapping circuits. However, the factors that govern the homeostatic control of synapse-specific plasticity are only beginning to be understood.
Date issued
2015-09
Department
Picower Institute for Learning and Memory
Journal
Frontiers in Cellular Neuroscience
Publisher
Frontiers Research Foundation
Citation
Subramanian, Jaichandar, and Dion Dickman. "Editorial: Homeostatic and Retrograde Signaling Mechanisms Modulating Presynaptic Function and Plasticity." Front. Cell. Neurosci. 9 (September 30, 2015).
Version: Final published version
---
Collections