Gene Expression Data from the Moon Jelly, Aurelia, Provide Insights into the Evolution of the Combinatorial Code Controlling Animal Sense Organ Development
Author(s)
Nakanishi, Nagayasu
;
Camara, Anthony C.
;
Yuan, David C.
;
Jacobs, David K.
;
Gold, David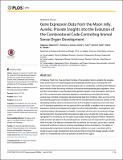 Download
Nakanishi-2015-Gene expression data.pdf (10.90Mb)
PUBLISHER_CC
Publisher with Creative Commons License
Creative Commons Attribution
Abstract
In Bilateria, Pax6, Six, Eya and Dach families of transcription factors underlie the development and evolution of morphologically and phyletically distinct eyes, including the compound eyes in Drosophila and the camera-type eyes in vertebrates, indicating that bilaterian eyes evolved under the strong influence of ancestral developmental gene regulation. However the conservation in eye developmental genetics deeper in the Eumetazoa, and the origin of the conserved gene regulatory apparatus controlling eye development remain unclear due to limited comparative developmental data from Cnidaria. Here we show in the eye-bearing scyphozoan cnidarian Aurelia that the ectodermal photosensory domain of the developing medusa sensory structure known as the rhopalium expresses sine oculis (so)/six1/2 and eyes absent/eya, but not optix/six3/6 or pax (A&B). In addition, the so and eya co-expression domain encompasses the region of active cell proliferation, neurogenesis, and mechanoreceptor development in rhopalia. Consistent with the role of so and eya in rhopalial development, developmental transcriptome data across Aurelia life cycle stages show upregulation of so and eya, but not optix or pax (A&B), during medusa formation. Moreover, pax6 and dach are absent in the Aurelia genome, and thus are not required for eye development in Aurelia. Our data are consistent with so and eya, but not optix, pax or dach, having conserved functions in sensory structure specification across Eumetazoa. The lability of developmental components including Pax genes relative to so-eya is consistent with a model of sense organ development and evolution that involved the lineage specific modification of a combinatorial code that specifies animal sense organs.
Date issued
2015-07
Department
Massachusetts Institute of Technology. Department of Earth, Atmospheric, and Planetary Sciences
Publisher
Public Library of Science
Citation
Nakanishi, Nagayasu, Anthony C. Camara, David C. Yuan, David A. Gold, and David K. Jacobs. "Gene Expression Data from the Moon Jelly, Aurelia, Provide Insights into the Evolution of the Combinatorial Code Controlling Animal Sense Organ Development." Edited by Andreas Hejnol. PLoS ONE 10, no. 7 (July 30, 2015): e0132544.
Version: Final published version
---
Collections