The CAT-SIR is out of the bag: tumors prefer host rather than dietary nutrients
Author(s)
Abbott, Keene L.
;
Vander Heiden, Matthew G.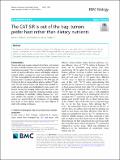 Download
12915_2021_Article_1027.pdf (407.5Kb)
Abstract
Abstract The extent to which tumors acquire nutrients from dietary sources as opposed to from the breakdown of host tissues is not known. In this issue of BMC Biology, Holland et al. report an approach where food sources with different isotope labeled carbon ratios can be used to answer this question, and find that tumors arising in Drosophila melanogaster procure most of their nutrients from the host.
Date issued
2021-05-10
Department
Koch Institute for Integrative Cancer Research at MIT
Citation
BMC Biology. 2021 May 10;19(1):92
Version: Final published version
---
Collections