The DivJ, CbrA and PleC system controls DivK phosphorylation and symbiosis in Sinorhizobium meliloti
Author(s)
Pini, Francesco
;
Frage, Benjamin
;
Ferri, Lorenzo
;
De Nisco, Nicole J.
;
Mohapatra, Saswat S.
;
Taddei, Lucilla
;
Fioravanti, Antonella
;
Dewitte, Frederique
;
Galardini, Marco
;
Brilli, Matteo
;
Villeret, Vincent
;
Bazzicalupo, Marco
;
Mengoni, Alessio
;
Walker, Graham C.
;
Becker, Anke
;
Biondi, Emanuele G.
; ...
Show more
Show less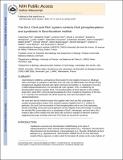 OPEN_ACCESS_POLICY
Open Access Policy
Creative Commons Attribution-Noncommercial-Share Alike
Abstract
Sinorhizobium meliloti is a soil bacterium that invades the root nodules it induces on Medicago sativa, whereupon it undergoes an alteration of its cell cycle and differentiates into nitrogen-fixing, elongated and polyploid bacteroid with higher membrane permeability. In Caulobacter crescentus, a related alphaproteobacterium, the principal cell cycle regulator, CtrA, is inhibited by the phosphorylated response regulator DivK. The phosphorylation of DivK depends on the histidine kinase DivJ, while PleC is the principal phosphatase for DivK. Despite the importance of the DivJ in C. crescentus, the mechanistic role of this kinase has never been elucidated in other Alphaproteobacteria. We show here that the histidine kinases DivJ together with CbrA and PleC participate in a complex phosphorylation system of the essential response regulator DivK in S. meliloti. In particular, DivJ and CbrA are involved in DivK phosphorylation and in turn CtrA inactivation, thereby controlling correct cell cycle progression and the integrity of the cell envelope. In contrast, the essential PleC presumably acts as a phosphatase of DivK. Interestingly, we found that a DivJ mutant is able to elicit nodules and enter plant cells, but fails to establish an effective symbiosis suggesting that proper envelope and/or low CtrA levels are required for symbiosis.
Date issued
2013-08
Department
Massachusetts Institute of Technology. Department of Biology
Journal
Molecular Microbiology
Publisher
Wiley Blackwell
Citation
Pini, Francesco, Benjamin Frage, Lorenzo Ferri, Nicole J. De Nisco, Saswat S. Mohapatra, Lucilla Taddei, Antonella Fioravanti, et al. " The DivJ, CbrA and PleC System Controls DivK Phosphorylation and Symbiosis in Sinorhizobium Meliloti ." Molecular Microbiology (August 19, 2013): n/a–n/a.
Version: Author's final manuscript
---
Collections